How to stay on top of your company's subscriptions
If you use services in your business, you'll have noticed that an increasing number of providers are switching over to subscription payment models.
For example, it is estimated that by 2022 53% of all software revenue will be generated from subscriptions.
This means the days of purchasing and installing software on your business PCs, laptops and servers are coming to an end, while the move towards cloud based software services is gathering pace.
As this trend accelerates you will be require to pay, and keep tabs of, an increasing number of software subscriptions across multiple providers.
And it's not just software that follows a subscription model:
– approximately 70% of magazines/newspapers are covered by a subscription
– over 60% of smartphones are contract mobile phones
– an increasing number of people subscribe to a media streaming service like Netflix.
Why tracking subscriptions is important
While it might be tempting to rely on your memory to handle subscriptions, it's important to put structured subscription management process in place.
That's because:
While you may forget about your subscriptions, they will not forget about you. Every month debit orders will come off against your bank account, whether or not you actively use or benefit from the service. Unused subscriptions will cut into your bottom line.
You're more likely to miss out on the tax benefits of claiming subscriptions as business operating expenses.
Where services require your consent for renewal (such as website domains), failure to monitor and renew these can lead to accidental cancellations that can potentially result in loss of valuable data or IT assets.
You'll run into a variety of problems when you make changes to your payment details. For example, if your credit card expires and you fail to update your subscriptions, you could find several critical subscriptions stalling at the same moment.
If you lose track of your subscriptions you can quite easily end up with more than one subscription to a software service provider, duplicating costs without any benefit to your business.
You'll miss out on the opportunity to periodically review your subscriptions and compare the pricing and cost-saving models offered by competing software providers.
How to track your subscriptions
Once you have recognized that tracking your subscriptions is important, there are some simple steps you can take to ensure you stay on top of them moving forward.
These include:
identifying all of your subscriptions
indicating subscription costs and subscription tier (i.e. basic or enterprise)
noting which member of your team is responsible for the renewal of each subscription
recording subscription renewal dates, where relevant
providing details on what service the subscription offers.
IT asset management software is often used to take care of these subscription management requirements. However, this software can be expensive and difficult to use.
It is also typically implemented and managed by IT staff, and may not be appropriate for business owners or managers who wish to manage their subscriptions themselves.
Why SOPHY makes sense
If you don't want to fork out money for expensive IT asset management software but want to implement subscription tracking, then SOPHY is the ideal solution.
SOPHY is a workflow, task and asset management system that provides all the functionality required to quickly and easily list and manage your subscriptions.
With SOPHY you can:
Set up each subscription as an asset.
Assign the subscription to a team member.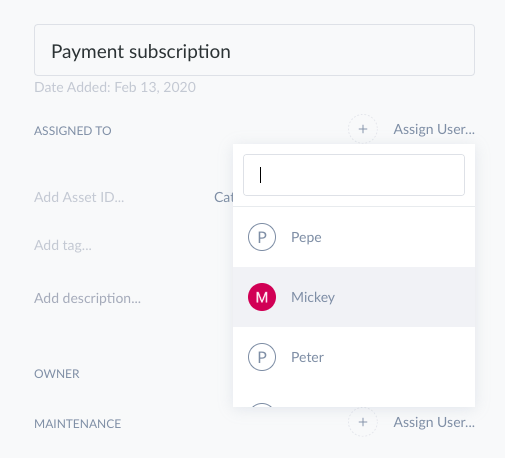 Add a category to the asset. For example, enter 'Subscription' as the category on your first subscription asset and you'll be able to use the same category on all additional subscriptions you add to SOPHY. This allows you to easily filter your assets for subscriptions.
Assign a tag to a subscription. This allows you to group different types of subscriptions by tag. You can then enter the tag in the SOPHY search bar to list subscriptions with the relevant tag.
Enter the cost of the subscription in the Value field.
Enter a description of the subscription, recording any relevant information such as subscription tier.
Use the task manager to set up the renewal or review of the subscription as a task that is due on a specific date. Assign the task to a team member and they will receive automated notifications according to the due date you set on the task.
Once your subscriptions have been set up as assets you can also correspond with team members about the subscription using the Activity & Comments field, providing a paper trail that allows you to keep track of what is happening with each subscription.
When you cancel a subscription you can easily delete it to ensure your subscription list stays up to date.
It's that easy!
And when you use SOPHY to manage your subscriptions you'll also enjoy the following benefits:
cloud based software, which means both you and authorised team members can view or edit your subscriptions from any online device at any time
real-time notifications of any changes made to tasks
unlimited team members and assets.
Let SOPHY assist you with subscription management.