New employee onboarding checklists, processes & best practises
Every new employee that you bring into your business represents a financial investment.
To bring a new employee into your company you will need to:
put time and budget towards advertising a vacancy and screening applicants. or pay recruitment agency fees to do this for you
provide training or a managed handover process to enable them to become productive in their role
pay the opportunity cost of lost productivity while the new employee settles into their job.
By the time your new employee is settled into their job, you may have spent thousands of dollars arriving at this point.
And if your approach to this process is not organized and structured, you risk losing your investment sooner rather than later.
That's because a new hire's initial experience of a company has a major impact on how long they are likely to stay at that company.
In fact, a third of employees report knowing whether or not they would stay at their new company within their first week at work.
The same percentage of new hires will leave a company within six months of joining the organization.
Each time this happens, the investment the company made in the employee is lost.
To make matters worse, the entire process will need to be repeated, which means another round of onboarding cost.

FREE TASK MANAGEMENT
Improve productivity and save money with our process, employee turnover and asset management software.
Employee onboarding process – best practices
Applying employee onboarding best practices is one of the simplest and most effective ways to reduce the costs associated with having to replace employees.
A structured onboarding process will instil confidence in an employer, improve employee retention and assist new employees in reaching full productivity as quickly as possible.
Here are some basic principles to keep in mind when onboarding a new employee:
1. Start at the point of contact
It's said that first impressions last.
The first point of contact between a new employee and your company starts during the hiring process.
Being friendly, organized and responsive during this period creates a positive impression. It can also assist in attracting higher quality employees to your company.
Before an employee is introduced to their new role in their company, they should be introduced to the context in which they will be working.
This means familiarizing them with how the company operates, and the rules and principles which apply to all employees.
An HR onboarding checklist will typically include:
employment contracts, including contracted duties and responsibilities
work schedules
leave and sick day policies
employee benefits such as healthcare or travel allowances
any codes of conduct that apply to employees
informal social rules that apply to the workplace, such a dress code
explaining access levels to company property and operations systems.
As part of this process you should introduce the new employee to supervisors and team members who they will be interacting with directly.
The employee should also be given a walkthrough of the office, showing them where they can access the restroom, refreshments and their place of work.
Effective asset management is a crucial part of assisting a new employee in becoming productive as soon as possible.
Asset management involves:
keeping records of movable assets that belong to the company
where, or with whom, these assets are allocated
keeping track of asset movement between employees and departments.
An effective asset management system will ensure there are no delays in providing new employees with access to the various tools and devices that they require in order to perform their duties.
Download your desired information now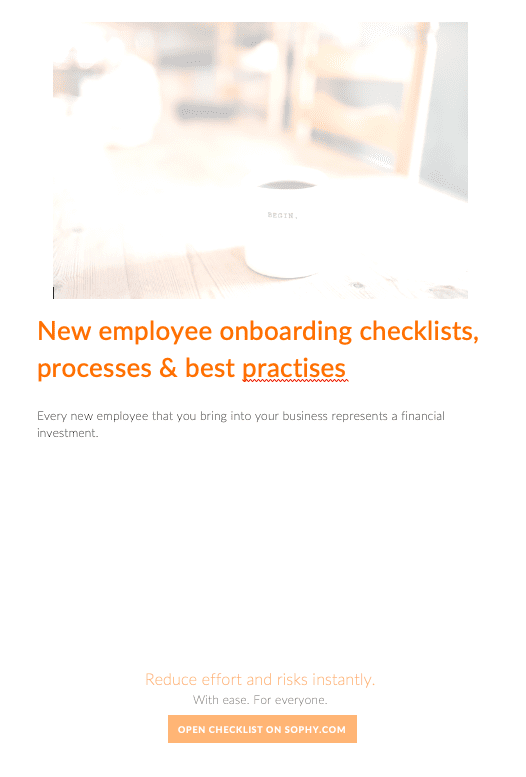 Please fill out the form and we will send this white paper directly to your email inbox.
Simply leave us your email address and you will receive our latest white papers, interesting blog posts, recent updates and much more with our newsletter. You can unsubscribe anytime.
4. Using checklists to structure the onboarding processes
While onboarding best practices may seem simple enough, onboarding can become quite complex when broken into the individual steps that should be followed in each stage.
Missing any step can create confusion, delays and unnecessary stress for a new employee.
The most effective way to create and maintain structure during onboarding is to make use of onboarding checklists.
These can clearly identify every step of the onboarding process.
This will assist you in ensuring nothing important falls by the wayside during onboarding, while the new hire will have a clear and structured path towards settling into their new role at your company.
Onboarding cost savings calculator