Employee offboarding - best practice and FAQ
Every beginning has an ending.
No matter how committed your employees are to your company. In the end it is inevitable that they will leave the organization at some point in the future.
But even though departing employees are an inevitable part of life at every company, very few businesses have processes in place to manage offboarding efficiently.
As is the case with unstructured onboarding, this carries hidden costs.
Indeed departing employees can create security risks for your company, slow down the onboarding of their replacements or simply cause confusion and disorganization that can impact your company's productivity and reputation.
Fortunately, efficient offboarding can be simple, affordable and effective if structured procedures and processes are put in place to deal with this phase of the employment cycle.
FREE TASK MANAGEMENT
Improve productivity and save money with our process, employee turnover and asset management software.
1. Communicate the employee's departure
Once an employee's service is terminated it is important to communicate this to relevant members of the organization and clients as quickly as possible.
This is because information vacuums will be quickly filled with gossip or speculation about motives for the employee's departure, the consequences this will have for the company and more.
Instead of giving gossip an opportunity to take root, rather announce the employee's departure promptly. Where reasonable indicate the reason for the employee's departure and the details of their replacement.
2. Get your paperwork in order
It's important to know what paperwork you require for offboarding, and to have a process for completing this paperwork in place.
This should include:
Signed letters of resignation or termination
Signed nondisclosure agreements
Any tax documents required by the employee
Any benefits documents required by the employee, including health care, retirement funds and unemployment insurance.
Failure to have any of this documentation available can result in delays, confusion and even legal problems if the employee is disgruntled and decides to take legal action against the company.
A departing employee is likely to have sole access to important knowledge relevant to your business operations.
This can include:
Client contact details
Location of project collateral
Status of any tasks or projects that will be handed over
Processes developed or used by the employee in their position.
Where a replacement employee is available it may be tempting to ask the departing employee to transfer this directly to their replacement.
However, it is always advisable to document this information, even if the new employee performs this task. This will make future knowledge handovers quicker and easier.
Departing employees typically have access to various assets that belong to the company.
Failure to manage these effectively can result in loss of:
Keys or access cards
Laptops and mobile phones
Uniforms.
An asset management system that allows companies to log and track the movement of assets between employees and departments is the most effective way to handle assets during offboarding.
Failure to manage this process can lead to:
Financial losses where assets must be replaced
Delays in replacement employees reaching full productivity where critical work tools are unavailable
Security threats to the company when previous employees retain access to their employer's premises
An exit interview can provide potentially valuable insights into how employees see your company, and where you can improve.
However, for exit interviews to be valuable they should be carefully structured with questions that are likely to provide you with useful insights into your company.
The exit interview should be conducted by a member of staff who did not supervise or work with the departing employee. This will ensure that the interview process is neutral and objective.
Exit interview findings should be compiled, stored and compared to other interviews. This can assist your company in identifying common problem areas and critiques.
Download your desired information now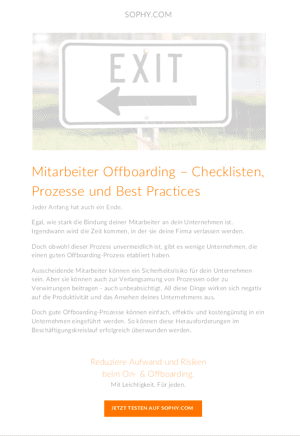 Please fill out the form and we will send this white paper directly to your email inbox.
Simply leave us your email address and you will receive our latest white papers, interesting blog posts, recent updates and much more with our newsletter. You can unsubscribe anytime.