How to be more productive with the Getting Things Done method
In today's world tasks, projects and other demands are popping up quickly and everywhere. Sometimes it's hard to keep all these things in your head by doing all of the daily business in or personal and working life. There are many methods and way how to be more productive while still being able to keep the track of all this important tasks but let's focus on a very popular one.
For those of you who are not familiar with this method: Getting Things Done is a self-management method developed by David Allen. It's a simple and effective way to quickly increase your productivity and structure.
You can easily implement it following these 5 steps:
Start collecting everything. And this means really everything in your head. 
Whether it's tasks, projects, reminders, goals or your grocery list. Every single thing that you add in SOPHY helps you to keep your mind clear to get full capacity to focus on how to be more productive.
In SOPHY you can add all your tasks, notes and everything else in "Tasks". It gives you the full overview of all important thing so nothing gets lost in the daily struggle anymore.
Go through your list and answer the following questions for yourself for each point:
1. What is it exactly?
This is the basic question to really understand what needs to be done and to get a feeling of urgency and importance. Put the answer into the description along with the next step and the goal that you want to achieve with it.
2. Can you take action right now?
If the answer is "No", delete the task or move it to the task group "For later".
If the answer is "Yes", do every tasks that takes less than 2 minutes immediately.
If someone else can do the job, assign the task to him. By choosing a team member or typing in their email address in the "assign to"-field, you can assign tasks. As soon as they created an account they can choose if they want to use SOPHY or simply mark their tasks as done via their familiar email client.

Otherwise, set a

due date

when this task should be done. 
You can also use tags like "call", "appointment" or the name of a specific project.
You have almost completed this step by gathering everything in SOPHY. 
However, if a task turns out to be complex, you should consider creating a task list for it and add the different steps and milestones as tasks there. 
These tasks in the list will automatically appear in your "Tasks" section.
Make sure your list is always up to date. This is the maintenance where you mark completed tasks, delete unnecessary ones, and add new ones. 
You will receive notification mails from SOPHY when tasks are coming close to their due date. To make this whole step easier for you, you can always mark tasks as done right within these mails without having to log in. 
If you sort by "My preferences" in the task list, you can also change the order of the tasks.
 Just click on a task and drag & drop it to the desired position in the list.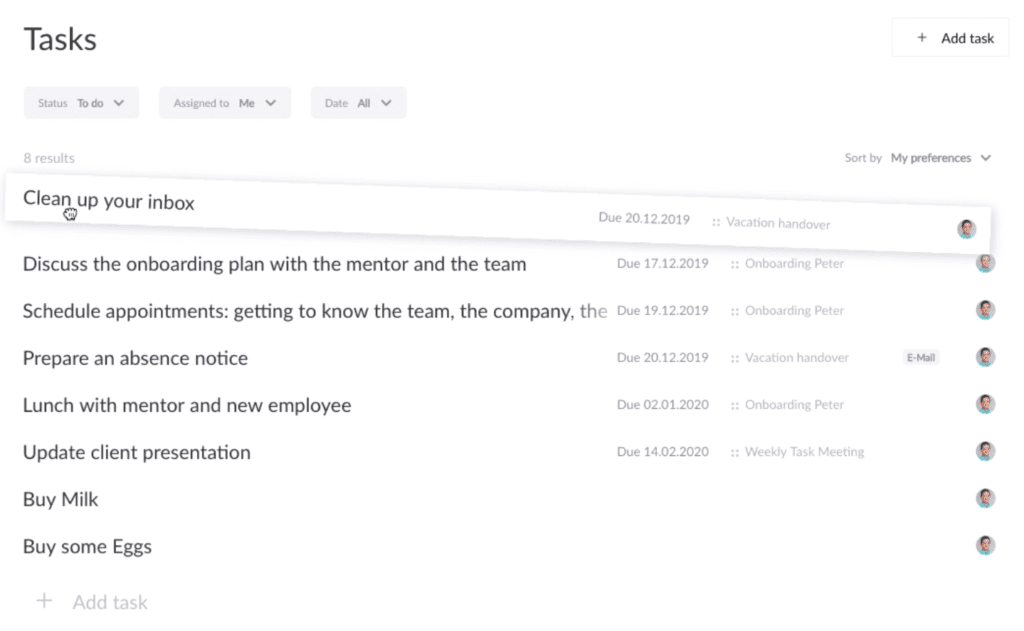 Here we go! 
Finally you can start getting things done. 
When you complete a task and it results in another one, add it immediately to your task section or the according task list.
Happy getting-things-done!