What asset tracking is, and why you should be doing it
Whether you're selling pizza out of a fast food truck or running an IT business, there's one thing you can be certain of – your company owns assets.
This could be the stockpile of pizza bases and the refrigerator you store them in, or a couple of dozen high performance desktop computers.
And if you're like the majority of businesses out there, there's a reasonable chance that you either have no structured asset management or tracking processes in place, or actively track and manage only a portion of your assets.
So, what is asset tracking and management?
Asset management and tracking is a set of processes that establish what your business assets are, who holds them and allows for active management of each asset during its life cycle.
Many businesses don't even take the first step of establishing what their asset management inventory is. Instead their asset inventories are purely conceptual.
For example the owners of a small IT agency are aware that they own several personal computers and the peripherals attached to them, and that somebody will notice and report it if they go missing.
Because of this they don't maintain any written record of assets in the company.
This type of thinking fails to take into account the surprising diversity of assets that even a small business can accumulate. 
This can include:
Office furniture
IT equipment
Keys and other access control equipment
Software, including licenses and subscriptions.
Knowing what these assets are, where they can be located, and who is in charge of them is not only a good idea, it can be critical for the financial wellbeing of your company.
Why you should be tracking your assets
The most obvious reason to track your assets it to ensure that they are not removed from your business without your knowledge, resulting in financial loss and the cost of replacement.
However, there are a number of other reasons you should be tracking your assets:
Depreciation on business assets is typically a cost that can be claimed back on your taxes, which means a healthier bottom line.
There may regulations governing the maintenance and disposal of specific assets and asset types. Failing to adhere to these regulations can carry fines and have potentially serious legal consequences. This means effective asset management is an integral part of risk management within most companies.
Tracking assets effectively creates a more organized and productive work environment, by reducing the employee down time, confusion and tension created when assets are lost, stolen or not properly maintained.
If your company has a stockpile of assets that are not used on a regular basis, and these can be identified easily, it can make more sense to sell or rent these out and thereby use them to generate capital for your business.
How to introduce effective asset tracking and management into your business
Setting up asset management and tracking processes sounds straightforward, and perhaps you already have some sort of basic asset tracking system in place. For example you may have captured your inventory on an Excel spreadsheet.
Or you may already track a selection of your existing assets using your company's accounting software, focusing on depreciating assets for tax purposes.
Whether this sounds like you, or you've never even compiled an asset inventory for your business, here are some basics that should apply to your asset management moving forward:
Establish the minimum value of assets you want to track and then log ALL of your assets of equal or greater value. You never know when you'll need an asset, and it's better to be prepared for this situation than to scramble around looking for the asset when you need it most.
Maintain a full history of each asset. This should include keeping track of who the asset is assigned to, it's current usage and life cycle status and any other information the asset manager may want to record about the item.
Use a centralized asset tracking system. While an Excel spreadsheet is better than nothing, you want to be able to log and manage your assets from any device at any time, and for your inventory to be updated and managed by more than one authorized user in real time. Cloud based asset tracking solutions are ideal for this purpose.
Applying these asset management best practices is one of the simplest ways to make your business more organized, efficient and profitable.
Using asset tracking and management software
Asset tracking and management software provides the quickest, easiest way to implement effective asset management processes in your business.
That's because this software structures, automates and simplifies many of the processes required to effectively manage assets.
However, the software available can vary significantly in terms of cost, user-friendliness and complexity.
Companies with large asset inventories subject to regulation may require expensive, highly specialized asset management software solutions.
Meanwhile, this type of software may not offer much value to smaller companies looking to save money and improve their processes.
Asset management with SOPHY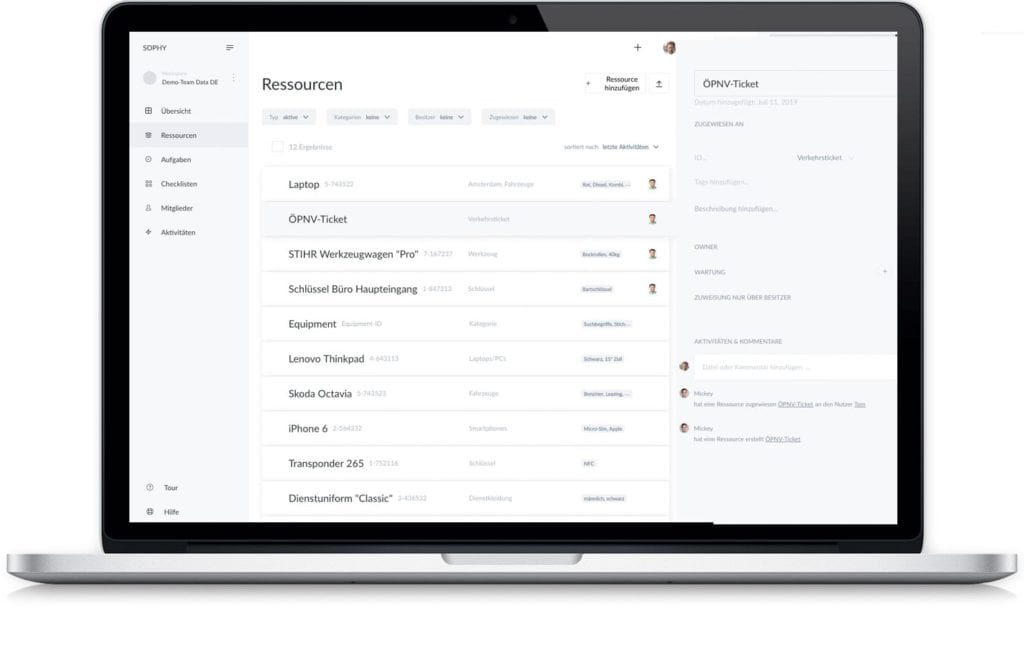 SOPHY's asset management software is designed with the small to mid-sized business in mind.
Our software provides the following benefits:
SOPHY comes with unlimited tasks, assets and users.
A simple, uncluttered user interface. It's so easy to use you won't need any training or user manuals. Simply start using SOPHY immediately.
Workflow and process integration. Which means you can set up and track asset management tasks, or integrate asset management into other tasks and processes using SOPHY's workflow management interface.
Already have your assets captured on an Excel spreadsheet? We offer bulk inventory uploads, allowing you to transfer your assets to SOPHY in just minutes.
Cloud based software which is always up to date, GDPR compliant and allows you and your team members to access and update your assets anywhere in real time.
A smart email notification system that alerts you to changes to, or comments on, assets you are following as soon as they are made.
It's never been easier to introduce effective asset management